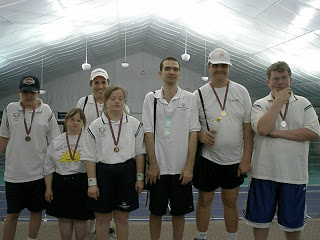 Today's message is especially dedicated to all the great Special Olympics Athletes, Coaches, Volunteers and Supporters at Sectionals yesterday at Riverwinds in West Deptford, New Jersey.
I have been a volunteer tennis coach for the Special Olympics for many years and it is truly one of my favorite things to do. It is such a proud moment when the athletes get their ribbons and medals (above). Nobody does it for the money because there is no money. I think many times we are so concerned with "what's in it for me?" that we lose sight of what it's really all about…others. It's not about what kind of car you drive, how big your house is, or which iPod you have. When teenagers volunteer, studies have shown that they reap the health benefits for up to 60 years later because things are in perspective and you have less stress and are happier. So go out and help out in any way that you can, anywhere that you can. You won't regret it.
"Everyone needs help from everyone."
"What do we live for if not to make life less difficult for each other?"
"He who lives only for himself is truly dead to others."
"A man wrapped up in himself makes a very small bundle."
"Happiness is achieved only by making others happy."
"There is no better exercise for the heart than reaching down and lifting people up."
"You cannot always have happiness, but you can always give happiness."
Thanks for reading.
https://www.edtseng.com/wp-content/uploads/2013/06/sectionals082.jpg
240
320
admin
https://www.edtseng.com/wp-content/uploads/2013/06/TsengLogo211-2.png
admin
2008-04-27 15:04:00
2008-04-27 15:04:00
MESSAGE #272 A SPECIAL SATURDAY...