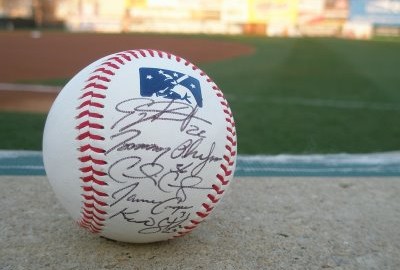 "Look up and not down. Look forward and not back. Look out and not in, and lend a hand."
"When you cease to make a contribution,you begin to die."
"Success has nothing to do with what you gain in life or accomplish for yourself. It's what you do for others."
They say that the quickest way to become happy is to make someone else happy.
Last night I took my mentee, Amish to the Trenton Thunder (Yankees AA affiliate minor league team) game. Before we went, I called the Thunder and told them that I was bringing my mentee, who lost his mother in 9/11 and was wondering if he could meet the team before the game. A very nice young lady called back and said that they didn't do that sort of thing, but that they could make him "Fan of the Game" and he would be able to throw out the first pitch, get on the diamond vision, and be in the Trenton Times this week! Wow.
We started at the offices, and walked past the clubhouse, where a couple players were walking to the field, so Amish asked them to sign his baseball. We then walked under the stands and out the tunnel to the dugout. As we waited on the field, all of the players started coming into the dugout to warm up for the game. My mentee politely asked them for autographs. I think he left with 18 autographs, including the mascots'! Well, they announced his name, and we walked out to the pitcher's mound and my main man threw a perfect strike to catcher. The Thunder game him a free hat and the game ball! After that, we thanked everyone and proceeded to our seats in Section L, Row 1 to enjoy America's Pastime. A great night!
You should have seen Amish's face – he was so happy. That made me happy. So remember, the quickest way to make yourself happy, is to make someone else happy. You don't need to have a lot of money, you can give your time and energy.
Homework: Make someone happy today!
https://www.edtseng.com/wp-content/uploads/2013/06/thunder+autographs2.jpg
300
400
admin
https://www.edtseng.com/wp-content/uploads/2013/06/TsengLogo211-2.png
admin
2009-04-10 14:10:00
2009-04-10 14:10:00
MESSAGE #620 HOW TO BECOME HAPPY...