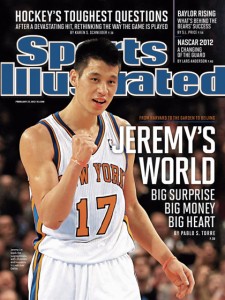 By now, nearly everyone on the planet has heard about Jeremy Lin of the New York Knicks and "Lin-sanity." If for some reason, you have been living under a rock for the past few weeks, let me recap for you.
After getting cut from the Golden State Warriors, Houston Rockets, and nearly the New York Knicks, Jeremy Lin came off the bench for the Knicks on February 4th and scored 25 points against the New Jersey Nets. He then scored 28 points versus the Utah Jazz, 23 points over the Washington Wizards, 38 points over Kobe Bryant (34 points) and the Los Angeles Lakers and 20 points against the Minnesota Timberwolves. He was named Player of the Week and the floundering Knicks went undefeated with Lin in the starting lineup. And the sports world exploded. What makes the Asian-American Harvard grad from California so special?
Here are my top five keys to Jeremy Lin's success:
1. He's a team player. In a league dominated by superstar players who often are like a one-man show, Lin does what most great athletes do…he makes the rest of the team better.
2. He is isn't affected by external factors. With all the hype and media attention he is getting, Lin still seems down-to-earth and composed regardless of what is going on around him.
3. He goes all-out. One of Jeremy Lin's goals for every game is to give a full effort. Gandhi said, "Full effort is full victory."
4. He has faith. In post-game interviews, Lin often thanks God for all that has happened to him. Whether you are religious or spiritual, having faith helps you trust your abilities and focus on the process, not the outcome.
5. He has fun. You can see by how he plays the game that Jeremy Lin loves what he does. Hard work and passion go a long way.
Here are a couple of my favorite Jeremy Lin quotes:
"I'm not playing for other people; if I start thinking in those terms I would put too much pressure on myself. I play basketball because that is what I love to do."
"I'm not playing to prove anything to anybody."
How far will Jeremy Lin go in his basketball career? Nobody knows, but one thing is for sure. If he stays healthy and keeps living by these principles, the sky is the limit.
https://www.edtseng.com/wp-content/uploads/2013/06/jeremy-lin-full-si-cover-225x3002.jpg
300
225
admin
https://www.edtseng.com/wp-content/uploads/2013/06/TsengLogo211-2.png
admin
2012-02-26 21:25:22
2012-02-26 21:25:22
MESSAGE #1631 THE SECRET TO JEREMY LIN'S SUCCESS