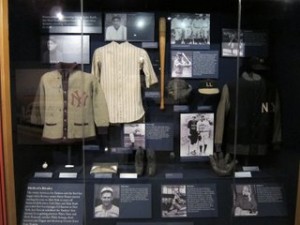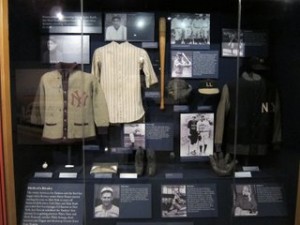 So here I am at the National Baseball Hall of Fame, doing research for my new book, "The Pinstripe Principles."
Today, I was in the A. Bartlett Giamatti Library from 9am-5pm going through several Yankee player files. Today I got through Jim Abbott, Joe DiMaggio, Babe Ruth and Red Ruffing. Not nearly as many as I would have liked, but the files are quite extensive, and rare, including articles, team documents, personal letters and photographs. I even had to wear white gloves to go through the files and could only bring in my laptop, notepad and a pencil.
Tomorrow I will go through the rest of the player files, as well as choose a photograph for the cover of my book.
This is a tedious process.
Do I want the book to be done?
Yes.
But I am LOVING the process. I can't tell you how amazing it feels to be in this "throwback" town (in the snow) in the largest baseball library on the planet, going through history. This is as close as I'll get to going back in time. I love it.
As you go through your day, and as you work towards your goals, remember to enjoy the process. Stay in the present moment.
The Hall of Fame Library opens tomorrow morning at 9am.
I'll be there at 8:59.
Wish me luck.
https://www.edtseng.com/wp-content/uploads/2013/06/Yanks1-300x2252.jpg
225
300
admin
https://www.edtseng.com/wp-content/uploads/2013/06/TsengLogo211-2.png
admin
2010-12-09 18:53:53
2010-12-09 18:53:53
MESSAGE #1234 GREETINGS FROM COOPERSTOWN!