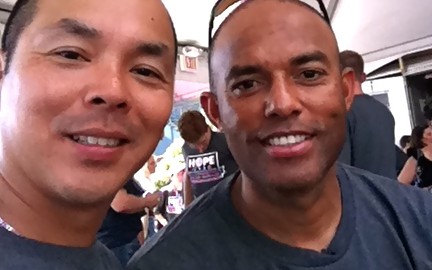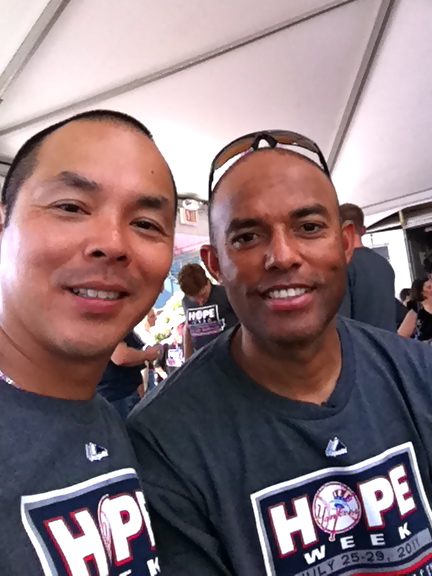 On Tuesday, I was honored to be one of the people honored by the New York Yankees as part of HOPE Week. For approximately five years, I have been a mentor for Tuesday's Children, a wonderful organization which began helping children who lost a parent in 9/11.
I became a volunteer mentor because I wanted to make a difference in a child's life. It turned out to be the opposite – a child has made a difference in my life. I have a feeling this week, the Yankees have a similar attitude.
This amazing day consisted of mentors and mentees attending a beach party at South Street Seaport…with the New York Yankees. Highlights included lunch, ping pong, a water balloon fight, photos, autographs, a water taxi ride, a private Yankee Stadium tour, on field for batting practice…all with the Yankees.
To the Yankees, HOPE stands for: Helping Others Persevere and Excel. This is their way of giving back, but like the volunteer that I am, the Yankees reap the benefits of their charity. All of the players I spoke to felt that HOPE Week is one of their favorite weeks of the year, and it puts everything into perspective.
Even though I was one of the honorees, I was thinking about you (yes you) and how I could help you persevere and excel.
On the beach, I had a wonderful conversation with Mariano Rivera, the greatest closer in the history of baseball. I asked him what he did when he didn't feel confident. His answer replayed in my mind the rest of the day…
"You don't ask a professional what he does when he doesn't feel confident. A professional should always be confident. A better question is, 'What do you do when you aren't at your BEST?'"
Let's analyze Mo's answer.
Rivera says that you should always act confident (regardless of how you feel). He focuses on the positives versus the negatives. When he re-phrased my question, he didn't say, "What do you do when you are at your WORST?" He, instead, chose to use a more powerful word, "BEST."
Mariano Rivera doesn't focus on results, he focuses on the process. I asked him what he thinks about when he pitches. His answer?
The catcher's mitt.
You don't have to be the best closer in the history of baseball to have the mindset of a champion.
Stay positive, and focus on the process instead of the results and you too can reach peak performance.
Ed Tseng
Director of Mental Conditioning
Monroe Sports Center
609.558.1077

https://www.edtseng.com/wp-content/uploads/2013/06/photo-122.jpg
576
432
admin
https://www.edtseng.com/wp-content/uploads/2013/06/TsengLogo211-2.png
admin
2011-07-26 23:59:49
2011-07-26 23:59:49
MESSAGE #1462 ANALYZING MARIANO RIVERA