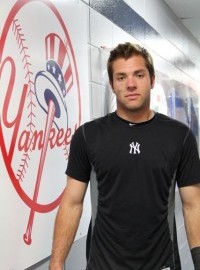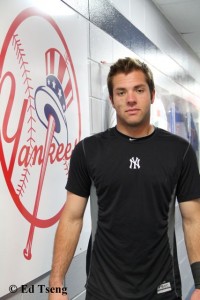 I took the above photograph of Yankee prospect, Austin Romine next to the Yankee Double-A affiliate, Trenton Thunder clubhouse last year. This week, Romine got called up to the big club, caught Mariano Rivera's 599th career save, started his first Major League game and collected his first major league hit.
Not bad for someone who thought his season was over. Romine was walking out of a Wal-mart in Kentucky when Yankee manager, Joe Girardi called, telling him the news.
4:30am the next morning, Romine began is trip to join the Yankees in Anaheim, ten minutes from his home town.
A couple dozen family members were present and Romine's brother, Andrew was in the opposing dugout, playing for the Angels.
After traveling from Kentucky, Romine was thrown right into the mix, looking at photos, videos, scouting reports, etc.
"I just took a deep breath and treated it like spring training. I'd caught all these guys before and I'd played (at Angel Stadium) before, so the comfort level was higher than I thought it was going to be. I just took a deep breath and didn't think."
Romine knows the secret, don't think.
His deep breath, relaxed him a bit and kept him in the present moment.
Not thinking helped him avoid paralysis by analysis.
Even though Austin Romine is a rookie, he has a veteran approach.
If you missed my exclusive interview with him, you can watch it HERE.
Make sure you checkout my new FREE video on my top five peak performance secrets. Register and enjoy!
Ed Tseng
Director of Mental Conditioning
Monroe Sports Center
609.558.1077

https://www.edtseng.com/wp-content/uploads/2013/06/Romine_clubhouse2-200x3002.jpg
300
200
admin
https://www.edtseng.com/wp-content/uploads/2013/06/TsengLogo211-2.png
admin
2011-09-14 23:36:04
2011-09-14 23:36:04
MESSAGE #1512 BE LIKE A ROOKIE