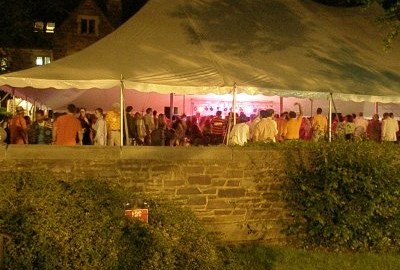 Today's message is especially dedicated to the great Nick Deeb, in the US Army.
This weekend was Reunions weekend at Princeton University. This event is not your typical college reunion. Instead of every 5, 10, 25 years, Princetonians have one every year. This year marked the 150th anniversary of the first class-based reunion in Princeton's history from 1859 (Class of 1856).
Many people think of "reunions" as one big party. With 15 huge tents spread out all over campus, each representing five graduating classes. Every tent has their own band. It was definitely the biggest party I've ever attended, with about 20,000 alum and over 20,000 guests and hundreds of local high schoolers that sneak in (a wristband is needed for admittance).
But it's not just a weekend of partying – there are actually events all weekend, such as, An Afternoon of Magic, the Princeton Entrepreneurs' Network Conference, sporting events, The Complete Works of William Shakespeare, tours and workshops. Some of the graduates in attendance were Pete Carry '64, Retired Executive Editor, Sports Illustrated, Mark Shapiro '89, General Manager, Cleveland Indians, and Chris Buja '84, of Google, Inc. I spoke with a wonderful young man from the class of 1959. After leaving Princeton, he worked in the field of law and he comes back every five years. This year was his 10th time back. "My favorite part is the P-rade. It starts with the oldest living alum and ends with the youngest."
"Watching the oldest alum bravely leading the charge with the silver cane (
usually in a golf cart
) with tens of thousands of people cheering him on is easily the most incredible moment in all of Reunions. It reminds everyone there how important it is to take moments to celebrate life, which, when it really comes down to it, is what Princeton Reunions is all about. " (From Princetonreunions.com)
"Taking moments to celebrate life."
I like that.
We live in such a microwave society that we are constantly looking to what we're doing next. Speeding up so we can get to the next red light. Looking towards the weekend, the end of the school year, or our next vacation. We want everything, including success, at light speed.
It is very important to set goals, and work towards them, but you need to enjoy the journey. Take moments every day to celebrate life. That's meditation. Take moments to enjoy playing your sport or the education you are getting. Celebrate the relationships in your life.
Every morning I wake up, meditate, and workout. I always start with jumping rope outside and while I'm doing that, I focus on everything around me. Everything in my life, big and small. I appreciate it all. It sets the tone for my day.
Remember, people don't sing to get to the end of the song. They sing because they enjoy the process of singing.
Don't play a tennis match to get the trophy or a ranking. Play for the enjoyment of it. The enjoyment of pushing yourself. The enjoyment of getting fit. The enjoyment of constant improvement.
That's life. Celebrate it.
"We have only ONE chance on this earth at that fantastic adventure called life."
-DALE CARNEGIE
Thanks for reading.
https://www.edtseng.com/wp-content/uploads/2013/06/P53028782.jpg
300
400
admin
https://www.edtseng.com/wp-content/uploads/2013/06/TsengLogo211-2.png
admin
2009-05-31 12:32:00
2009-05-31 12:32:00
MESSAGE #671 PRINCETON REUNIONS...