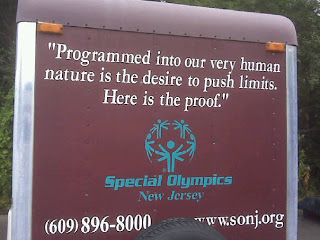 "Let me win, but if I cannot win, let me be brave in the attempt."-SPECIAL OLYMPICS MOTTO

Today's message is especially dedicated to the great Angie Holmberg in Edmond, Oklahoma.

It is a bittersweet day for me. Eunice Kennedy Shriver has just passed away. She was the sister of John F. Kennedy, but more importantly, she was the founder of the Special Olympics.

"She started the Special Olympics Games in 1968 to foster fitness and self-esteem for those with mental retardation. Her concern for the mentally handicapped was attributed to her relationship with older sister Rosemary, who was said to have been mildly retarded and spent the majority of her life in long-time care facility after a lobotomy.

'I had enormous affection for Rosie,' Shriver said in a National Public Radio interview in 2007. 'If I never met Rosemary, never known anything about handicapped children, how would I have ever found out? Because nobody accepted them anyplace.' "
-Yahoo News

To this day I think that they still are not accepted.
I have been a volunteer tennis coach for the Special Olympics for almost ten years now and it has been one of the most enjoyable things I have ever done. One of my good friends, Brad Abouchedid, is a Special Olympics gold medalist. I have learned so much from Brad, and the other special athletes. Brad also wrote the forward of my book, "Game. Set. Life."

I am one of their coaches, but I have learned more from them than they have from me.

They have unconditional love.
They give it their all.
They smile, even with a last-place finish.
They are polite.
They cheer each other on.
They inspire greatness.

Joey Clawson, another good friend of mine and Special Olympics gold medalist, played on the Ewing High (NJ) tennis team and was accepted to The College of New Jersey, a top school in the state.

If Joey can make the high school team and get accepted into a good college, with a mental disability, imagine what you can do?
Thank you, Eunice Kennedy Shriver, for showing me and millions of others what we all have inside.

Anything is possible – trust me, I've seen it.

Thanks for reading.
https://www.edtseng.com/wp-content/uploads/2013/06/spec+o+van2.jpg
240
320
admin
https://www.edtseng.com/wp-content/uploads/2013/06/TsengLogo211-2.png
admin
2009-08-11 12:04:00
2009-08-11 12:04:00
MESSAGE #746 A BITTERSWEET DAY...