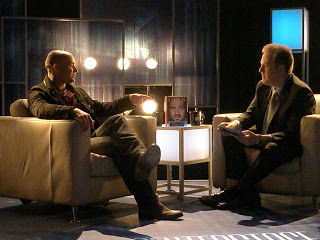 Andre and "Center Stage" host, Michael Kay

"Game. Set. Life." Only on Yes!

Andre reading "Game. Set. Life."

Yesterday was one of the best days of my life.
I was invited to a private taping of the "Center Stage" show in New York City.
The host: Michael Kay
The guest: Andre Agassi
My seat: Second row, center
I don't know where to begin. This may have to be more than one blog entry.
I think the most important message Andre wants to convey is that we all have choices…and it's never too late.
Andre CHOSE his life at age 27. Before that he was forced to play tennis and hated it. But then he hit bottom and then had to choose between hanging up the racquet, or going all out.
He chose to go all out.
He re-dedicated himself and got back to the top of the tennis world.
We all make our own choices. And we have to take risks.
Agassi says, "Anything worthwhile in life comes with a risk…this book was a risk. Some people may read it and like it, and others may not. If I can inspire one person, give one person hope, my job is done. In my life, I was finally happy to change myself – that was the only thing I could control."
"I was gonna hang in until I had nothing left to give."
I really like that quote.
Andre went all out and at the end of his career, he was satisfied. It was the end of that chapter in his life. He had no regrets.
And that's what this blog is all about…are you going to go all out or hold back.
Andre's final words…
"It's never too late…go out and get it."

Thanks for reading.


https://www.edtseng.com/wp-content/uploads/2013/06/PB1229082.jpg
240
320
admin
https://www.edtseng.com/wp-content/uploads/2013/06/TsengLogo211-2.png
admin
2009-11-13 13:00:00
2009-11-13 13:00:00
MESSAGE #840 ANDRE AGASSI, PART II...