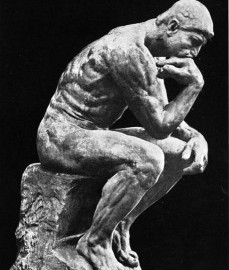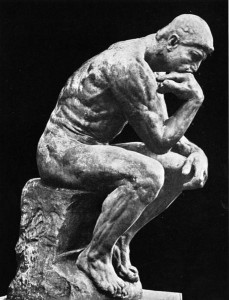 Today would have been artist, Auguste Rodin's 172nd birthday. In 1902, Rodin created one of his most famous statues, "The Thinker" (above). In fact, if you look on Google's homepage today, you can see a sketch of Rodin's sculpture.
I know what you're thinking, "What does that have to do with peak performance?"
My answer? Everything.
One of my influences, the late Sydney Banks once said, "The most important thing to remember is it's not what you think – it's the fact THAT you think."
It took me a while to understand exactly what this quote meant, but I think I finally got it.
To me, Banks was saying, it doesn't matter what our thoughts are because thoughts are neutral. It's our thoughts about our thoughts that make them positive or negative. (Didn't Shakespeare say something similar?). When we don't concern ourselves with the content of our thoughts, they don't last long. Therefore, we needn't worry about negative thoughts because all thoughts are fleeting. (Can you remember the last five thoughts you had? I know I can't).
"It's the fact THAT you think" is a very powerful statement. I believe the power of thought is the most important thing in the whole world. Thought can create extreme confidence and thought can create complete doubt. Thought creates feelings and thought creates behavior. Don't believe me? Can you recall the last time you had doubtful thoughts? What was your energy level? Most likely low. What did your body language look like? Most likely poor. You were simply feeling your thinking in that moment.
When you know that you are the "thinker," you are the artist of your own life, and not affected by circumstances, situations, other people, or who got elected President. You can paint any picture you want and that picture will be your reality (in that moment).
In short…
Thought creates our world…not the other way around.
We are the thinker, and we feel our thinking.
Happy Birthday, Auguste Rodin.
https://www.edtseng.com/wp-content/uploads/2013/06/TheThinker-229x3002.jpg
300
229
admin
https://www.edtseng.com/wp-content/uploads/2013/06/TsengLogo211-2.png
admin
2012-11-12 21:22:53
2012-11-12 21:22:53
MESSAGE #1651 THE THINKER