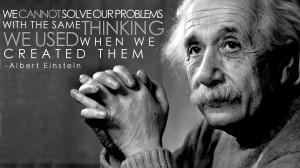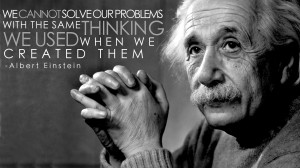 Well, it's Pi Day again (3.14), March 14 here in Princeton, New Jersey. It is also the great Albert Einstein's 134th birthday, a former Princetonian. All over town there are math contests, pi eating contests, tours and Einstein look-alikes.
I know what you're thinking…what does this have to do with me?
EVERYTHING.
Most people would call Albert Einstein a genius.
Not Albert.
Here's how he saw himself…
I have no special talent. I am only passionately curious."
When things go wrong, do you get frustrated or fascinated? Do you get irritated or intrigued?
Small children are curious. Everything is full of wonder and excitement to them. And they tend to stay in the present moment.
My friend, Garret Kramer once told me on the phone, "A lot of people say, 'Live today as if it were your last.' I say, live today as if it were your FIRST."
I really like that.
If you live today as if it were your first, you would see and experience things with fresh eyes. You are more in the moment, have more satisfaction, and perform at a higher level. Your mind is clear and you have access to your wisdom, instincts and intuition.
Many people live in the past, and look for the answers in the past. You won't find them there.
Here's another Einstein quote…
We cannot solve our problems with the same thinking we used when we created them."
ST = SR (Same Thinking = Same Results)
NT = NR (New Thinking = New Results)
Don't get me wrong, you don't need to change your thinking…as a matter of fact, you couldn't if you tried. New thinking happens on its own when your mind is clear.
When your thinking changes, your experience changes…this is the nature of life. When you truly realize this, you will operate more with a clear mind, and that is when you will experience more peak performances.
Happy Pi Day everyone!
https://www.edtseng.com/wp-content/uploads/2013/06/einstein-300x1682.jpg
168
300
admin
https://www.edtseng.com/wp-content/uploads/2013/06/TsengLogo211-2.png
admin
2013-03-14 17:37:08
2013-03-14 17:37:08
MESSAGE #1656 HAPPY PI DAY!