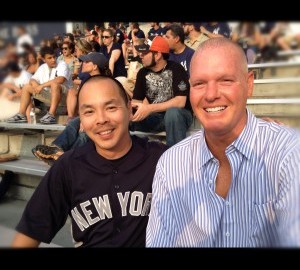 I recently spent some time with the former Yankee great, Jeff Nelson at Yankee Stadium. We were at an event for Cystic Fibrosis and participated in the famous roll call with bleacher creature, Bald Vinny, Yankee writer, Jon Lane, and my friend Fred Weiland, among others.
What did I learn from "Nellie"?
1. He was always confident.
2. He was always nervous.
3. He treated both feelings the same way.
Nelson said that he was always confident, but there are so many factors in sports so you never know what's going to happen. He also said that being nervous is normal. And he didn't think too much about either one. That leads me to my Top 5 Ways to Play in the Zone Almost Instantly.
1. Understand that feelings (both positive and negative) are random.
2. Understand that feelings (both positive and negative) are neutral.
3. Understand that feelings come and go.
4. Understand that feelings come from your own thoughts.
5. Understand that if you don't take your thoughts and feelings so seriously, you will play in the zone more consistently.
Notice my Top 5 has no technique, routine or ritual? There's no how-to. All you need is UNDERSTANDING. The reason why is because when you are in a slump and you look to a technique, it will not work. It will just begin to make you think more. And when you think more, you perform less. The zone is a state of no thought (at least you don't realize you are thinking), so why would you do the opposite when things are not going your way?
I don't know either.
Let me end with a quote from another famous Yankee…
"You can't think and hit at the same time. A full mind is an empty bat."
—Yogi Berra
https://www.edtseng.com/wp-content/uploads/2013/06/Nellie1-300x3002.jpg
300
300
admin
https://www.edtseng.com/wp-content/uploads/2013/06/TsengLogo211-2.png
admin
2012-07-03 08:03:55
2012-07-03 08:03:55
MESSAGE #1641 TOP 5 WAYS TO PLAY IN THE ZONE ALMOST INSTANTLY