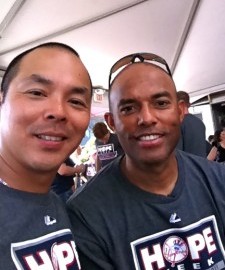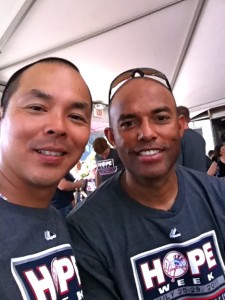 Well, it's officially HOPE Week, my favorite week of the entire baseball season. The above photograph is of myself and the great Mariano Rivera at HOPE Week 2011. For an entire week, the Yankees honor a person or organization that could use their help. HOPE is an acronym for Helping Others Persevere and Excel. Every season, Yankee players volunteer their time and after helping out, most players agree that they benefitted more than the recipient.
But the Yankees don't know the secret…yet.
Recently, I taught a class at Whole Food Princeton's Wellness Club entitled, "The Art of Happiness: Mental Wellness 101." I told the class that one of the things that makes me happy is to make others happy. The truth is, when I do something nice for someone else, my thoughts and feelings change to ones of compassion, love, and gratitude so it's not the act, but the thoughts. The same will happen for the Yankees this week.
This week, I also will be donating my time and educating people on how peak performance occurs on the inside (thoughts), not the outside (strategy). Volunteering and helping others is great, but remember it's your new thoughts that change your feelings, not the kind act itself.
In fact, let's try a little experiment this week. Wherever you are in the world, I challenge you to do an act of kindness every day this week. I have donated my time with the Special Olympics, Boys and Girls Club of Trenton, Mercer County Juvenile Detention Center, United States Tennis Association, and other great organizations, but this week I'm going to step up my game as well. Your contribution this week could be complimenting a stranger on the street, helping someone with their stroller up the steps, or reading to the blind. As you do these things, see if you notice a change in your thoughts and/or feelings. You may or you may not, depending on your state of mind at the moment. But that's not the point. Do good things because you want to, not because of how you think they may make you feel.
I will be posting updates this week on this site, as well as on Facebook, LinkedIn and Twitter. I would love to hear your random acts of kindness as well. Leave your comments below or on the social media mentioned above.
Thanks for reading.
https://www.edtseng.com/wp-content/uploads/2013/06/photo-12-225x3001.jpg
300
225
admin
https://www.edtseng.com/wp-content/uploads/2013/06/TsengLogo211-2.png
admin
2012-06-25 07:37:23
2012-06-25 07:37:23
MESSAGE #1640 HOPE WEEK