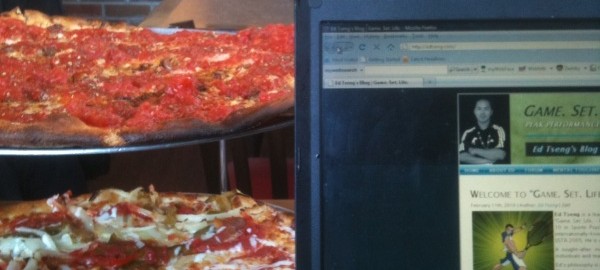 "Far and away the best prize that life offers is the chance to work hard at work worth doing."
-THEODORE ROOSEVELT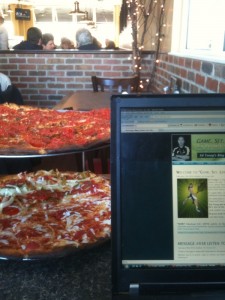 So here I am entering my most enjoyable blog message.
Now, don't get me wrong, I enjoy all of my blog messages, but today's is especially delicious, I mean, enjoyable.
I'm sitting here at DeLorenzo's Tomato Pies in Robbinsville, NJ. I have wireless internet (stolen from the sushi place next door), an outlet for my laptop and two amazing pies on the way (one 1/2 sweet peppers and onions, 1/2 garlic and one of the owner's favorite, anchovies, garlic, no cheese…burnt).
Today was my day off, but I gave a mental coaching session and then taught a ladies doubles clinic. I love what I do and don't mind putting in the hours.
Now I'm blogging during lunch at one of my favorite pizza places on the planet. Again, I don't consider blogging, work.
Someone recently said that they were jealous of me because I love what I do.
Why can't you?
I'm not saying to quit your job, but…
-Start doing more of what you love
-Start making a difference
-Think of creative ways you can monetize
-Enjoy the whole process
It's Friday…are you happy the weekend is here?
I sure am, not because I'm NOT working, but because I AM working…
But for now, I'm off. Time to enjoy my pizza.
Make every day delicious!
Thank you, Sam Amico and DeLorenzo's Tomato Pies!!
Talk to you tomorrow.
https://www.edtseng.com/wp-content/uploads/2010/02/photo.jpg
800
600
admin
https://www.edtseng.com/wp-content/uploads/2013/06/TsengLogo211-2.png
admin
2010-02-19 13:28:30
2010-02-19 13:28:30
MESSAGE #939 THE MOST DELICIOUS BLOG ENTRY