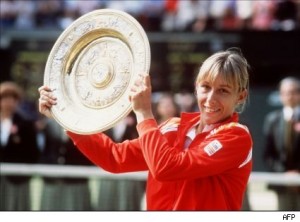 Martina Navratilova is a former World No. 1 female tennis player. In fact, Billie Jean King said Navratilova is the "greatest singles, doubles and mixed doubles player who's ever lived."
I played some doubles with Martina when she was getting ready to make her comeback back in 2000. I vividly remember the first time I hit with her. She and I were warming up and I quickly began thinking, "I'm hitting with a living legend…" I was nervous and my strokes and body were extremely tight.
Fortunately, I quickly thought, "She's just another tennis player. Have fun." And I did exactly that and played quite well.
Here's what happened:
1. I was having nervous thoughts which created nervous feelings.
2. My nervous feelings created my tight strokes and behavior.
3. My thoughts changed and quickly my strokes and body became more loose.
Here's what you should understand:
1. Feelings are not created by external events, e.g., line calls, spectators, comments or Martina Navratilova.
2. Feelings are created 100% by your own thoughts (often without you even realizing that you are thinking).
3. When you are experiencing negative feelings, you don't have to "do" anything about them. All it takes is the UNDERSTANDING that your thoughts create your feelings (you are the thinker) and if you don't take them so seriously, your mindset will naturally rise back up.
4. With this understanding, your mind will clear and you will increase your chances of having a peak performance.
Thoughts?
Leave your comments below.
For a free 10-minute phone, Skype or FaceTime consultation on the mental game in sports, academics, business, or life, email: .
Thanks for reading.
https://www.edtseng.com/wp-content/uploads/2012/05/Martina.jpg
315
425
admin
https://www.edtseng.com/wp-content/uploads/2013/06/TsengLogo211-2.png
admin
2012-05-31 17:09:17
2012-05-31 17:09:17
MESSAGE #1638 HOW TO GET OUT OF YOUR OWN HEAD...