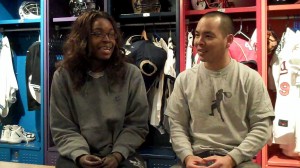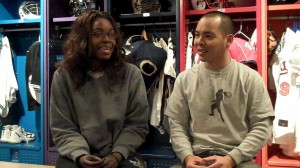 Yesterday, I talked about one of my she-roes, my mother.
Today, I want to talk about another one of my she-roes, the great Rayna DuBose (ABOVE at the Sports Legends Museum in Baltimore with yours truly).
For those of you who complain about the little things in life, after reading today's message, there's a good chance you will never complain again.
From Rayna's website:
What started as a dream in 2001 quickly turned into a disaster for Rayna DuBose, a highly recruited student who was granted a full athletic scholarship to play Division I Women's Basketball at Virginia Tech. Rayna entered Virginia Tech in 2001 as a part of the women's team which was in the Big East Conference at the time. By the time April 2002 had approached, Rayna was struck with a deadly bacterial disease known as meningococcal meningitis, which then led to 96 days in the UVA Medical Center in Charlottesville, Virginia, with collapsed organs, non-functioning kidneys which had her on dialysis, in a coma, liver problems and worst of all no blood circulation to her hands. She was a vegetable fighting for her life. Soon enough the day came when all four of her limbs were amputated and she became a bi-lateral amputee.
After the pain, therapy and what seemed like torture, Rayna returned back to Virginia Tech in the summer of 2003 to return to her normal college life as if nothing had ever happened. With a year off from school in 2002 she still remained active, taking on-line classes and staying a part of the Virginia Tech Women's Basketball team by serving as a Student Assistant Coach, still traveling and being a part of the team. In 2003 she received the Most Courageous Award at the Men's Final Four in New Orleans. In 2005 she received the Wilma Rudolph Award. She was also given the 2009 National Ethnic Coalition Organization Congressional Ellis Island Medal of Honor, and was the 2009 McDonalds Athlete of the Day for the Military Paralympics. Rayna has also made appearances on HBO Real Sports with Bryant Gumbel, CBS Sports, the CBS Early Show, Cayman Islands news, and local news stations. Just recently completed the USA a2 sitting volleyball training camp.
I caught up with my inspirational friend earlier today on Facebook (Yes, she uses Facebook—in fact Rayna and I text all the time).
The first time I met Rayna, I asked her what she did first thing in the morning.
She said, "Put on my arms and legs."
Anyone feel like complaining about the fact that it's "Monday"?!?
Today, Rayna told me, you have to appreciate what you have because you never know what can happen. She has actually said that becoming an amputee was the best thing that ever happened to her because now she is helping others.
Wow.
DuBose also said that the secret to life is to love yourself. I like that.
I asked Rayna if she thought anything was possible.
"EVERYTHING is possible depending on how bad you want it and how hard you will work for it."
That's mental toughness.
Rayna does not feel that she is handicapped. It just takes her a little longer to do some things. She even drives when she goes out with her friends!
Sports and life is not about what happens to us, it's all about how we respond.
So the next time you feel like complaining or feel that you can't do something, remember Rayna's words.
https://www.edtseng.com/wp-content/uploads/2013/06/Ed-Rayna-300x1685.jpg
168
300
admin
https://www.edtseng.com/wp-content/uploads/2013/06/TsengLogo211-2.png
admin
2011-05-09 11:30:38
2011-05-09 11:30:38
MESSAGE #1384 BASKETBALL PHENOM TURNED AMPUTEE