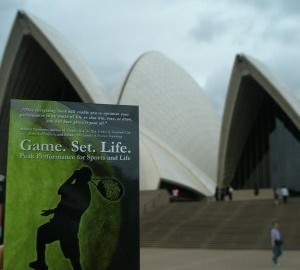 G' day from Down Under! How you going?
It was about 80 degrees here in Sydney yesterday…Summer. It is currently December 10 @ 2:08PM in New Jersey and December 11 @ 6:08AM in Sydney. Very strange.
I settled in to the Four Seasons yesterday, walked around the Rocks area, had lunch at one of the top 50 restaurants in the world, and took a tour of the Opera House.
There were many blog messages I could have created from yesterday, but I'm only going to talk about one…
If you read my book, you know about this one. Do a little bit more than what's expected. On court, in class, at work, in your relationships.
This is my first time staying at a Four Seasons and I am impressed. How many times have you checked in to a hotel in the morning and your room wasn't ready? That's pretty much always the case. Well, our room was all ready for us. The service is top- notch here, from housekeeping and the staff to all 34 sparkling floors. There is a roof-top pool, full-service fitness room and spa and a few restaurants. Anytime you go near a door, someone opens it for you. Everything is the best here and that's why they are the Four Seasons. That's why so many people stay here.
Do I need this type of service? No, but that's not the point.
The point is that you have to be better than everyone else. If you put a certain quality in your work, people will see that. What would you rather drive, a Rolls Royce or a Kia?
If you are the first to get to practice and last to leave, do you think that your coach won't notice that? If you hustle more than everyone else on your team, do you think that your coach won't notice that?
If you talk to your teacher after class and talk about the topic of the day, they will notice.
How about applying this to work? Relationships? Playing music?
We live in a society of "good enough to get by" so if you do just a little bit more, you will stand out from the crowd and be one more step closer to peak performance.
Greatness does not lie in doing something once. Greatness lies in doing something consistently.
Today: markets near Chinatown, harbor cruise and show at the Opera House.
https://www.edtseng.com/wp-content/uploads/2013/06/PC0916942.jpg
400
300
admin
https://www.edtseng.com/wp-content/uploads/2013/06/TsengLogo211-2.png
admin
2008-12-10 19:08:00
2008-12-10 19:08:00
MESSAGE #498 G'DAY...