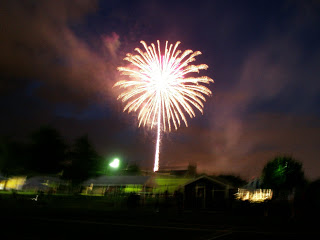 Well, it's the 4th of July here in the grand old US of A. What does that mean? Barbecues, the beach, parades, concerts and fireworks. The Declaration of Independence for the United States.
Most people are going to have hot dogs, hamburgers, beer, and soda.
These things are not the healthiest for you, are they?
Do we even know what is in hot dogs?
I think they're made of pork.
Contrary to popular belief, hot dogs are not made from pig snouts and leftover meat. But they can't be good for you.
This is from an AP article…
ST. LOUIS (AP) — A new billboard debuting in St. Louis asks for "dietary disaster" warning labels to be put on hot dogs served at Busch Stadium and other Major League Baseball stadiums.A nonprofit advocacy group called The Cancer Project is sponsoring the billboard that debuts Wednesday off Interstate 70 in St. Louis County, just in time for this month's All-Star Game. The billboard features an image of hot dogs jammed into a cigarette pack labeled "Unlucky Strikes."The billboard and a letter from a Cancer Project dietitian to Baseball Commissioner Bud Selig claim a link between processed meats and the risk of colorectal cancer.The National Pork Board on Wednesday refuted the claim, calling it an attempt to scare consumers when it says the fundamental causes of many cancers are alcohol, smoking, obesity and lack of physical activity.
I'm not saying I never eat hot dogs. It's obviously your choice.
What I am saying is that you should think before you do things.



Everything is a choice. Don't just do things because everybody else does.



You get out what you put in to your body. The fastest car goes nowhere without fuel.
And nothing tastes as good as fit feels.


Thanks for reading and have a happy and healthy 4th.
https://www.edtseng.com/wp-content/uploads/2013/06/fireworks5.jpg
240
320
admin
https://www.edtseng.com/wp-content/uploads/2013/06/TsengLogo211-2.png
admin
2009-07-04 11:46:00
2009-07-04 11:46:00
MESSAGE #708 DON'T DO IT!!!