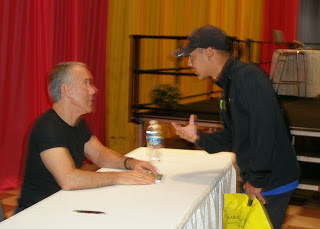 Normally, people get gifts on their birthday.
Well, today, I'm going to GIVE a gift on my birthday.
Yesterday, I went to hear one of my favorite authors, Dan Millman (above) speak at the Mind Body Spirit Expo in Philadelphia.
It wasn't for me, it was for you.
I love listening to speakers to help me become a better speaker and person, but more importantly, so I can help my students and blog readers become better people.
Millman was a dynamic speaker and I walked away with some great tidbits.
"What is talent? The ability to learn faster than others. It is twenty percent innate, but it can be developed," Millman stated.
"Effort over time is better than magical thinking. You can't control the outcome, but you can control your effort."
Many people went to hear Millman's best technique for peak performance and happiness. He said that daily life is the best technique. "It's like spiritual weightlifting. There are hidden gifts in adversity – it's all in your perspective. Life is an experiment. And your only goal should be excellence in the moment. Check your posture, notice if you are relaxed and see if you are breathing."
You don't have to give up all of your possessions to become happy. "I've seen many grumpy monks. It's a balance between Western and Eastern philosophies."
"Thoughts are natural, but don't mistake them for reality. The only way to tame your mind is to make peace with it. Be aware of your thoughts and then let them go. It's okay to have an angry thought, just don't ACT angry."
"Life is not about successes and failures; life is about testing your limits."
I really like that one. Just keep pushing yourself and get a little bit better every day.
Millman mentioned that his mentor, Socrates (from Way of the Peaceful Warrior) once said to him, "The difference between you and me is that YOU practice gymnastics and I practice EVERYTHING."
Do I teach tennis?
Not really. I teach life through tennis.
Do I practice tennis?
No, I practice life through tennis.
It's all about going all out.
Relaxing under pressure.
Enjoying the moment.
And getting better every day.
Anyone can have this mindset, immediately.
Be more aware of what you are doing and your whole world will change.
Thanks for reading.
https://www.edtseng.com/wp-content/uploads/2013/06/PA2528882.jpg
229
320
admin
https://www.edtseng.com/wp-content/uploads/2013/06/TsengLogo211-2.png
admin
2009-10-26 16:30:00
2009-10-26 16:30:00
MESSAGE #822 A GIFT FOR YOU...ON MY BIRTHDAY...