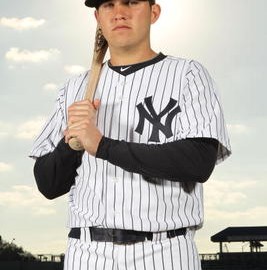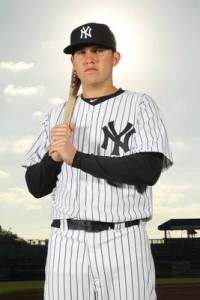 Today's message is especially dedicated to the great Brandon Laird, 3B for the Trenton Thunder (Double-A, New York Yankees).
Brandon Laird currently leads all of professional baseball with 77 Runs Batted In in 72 games.
He was named Eastern League Player of the Week and Player of the Month.
He was only the second Thunder player to hit for the cycle on May 26, including a walk-off home run.
Two nights ago, he hit a grand slam and a three-run home run (for the second time this season).
Did I forget any impressive stats? Probably.
I have been fortunate to spend some time with Laird over the past month. His numbers are amazing and his attitude is even better. He is truly a class-act and is mentally tough beyond his years.
After last night's game, I spoke with Laird and he was telling me how he was in a bit of a "funk" last week.
I asked him how he got out of it and he said, "At first I thought, 'What am I doing?' then I thought about what I was doing well before and tried to focus on that. I just trusted that it would come around because failure is part of baseball."
Laird was persistent in his approach and stayed optimistic. As most great athletes do, he focused on his effort, not his results.
I had to ask Laird about his streak and having the most RBIs in professional baseball.
"You know, I'm just taking it one day at a time. I have a plan, I try to hit the ball hard and have a good at bat," commented Laird.
Tonight is exactly one month since I first spoke to Laird, which was the same night he hit for the cycle with a walk-off home run.
I will be talking to #29 again before the game and we'll see if he can continue to stay hot with his bat. I have a strange feeling he will.
Play ball!
https://www.edtseng.com/wp-content/uploads/2010/06/Brandon-Laird-Pinstripes.jpg
400
267
admin
https://www.edtseng.com/wp-content/uploads/2013/06/TsengLogo211-2.png
admin
2010-06-26 16:17:52
2010-06-26 16:17:52
MESSAGE #1068 TALKIN' BASEBALL