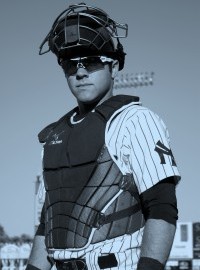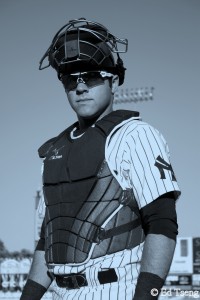 Depending on who you ask, Austin Romine is either the #1 or #2 prospect in the New York Yankees organization. He was named Minor League Player of the Year last year and is currently the catcher for the Double-A Trenton Thunder. Last night I caught up with Romine in the locker room before the game.
ET: How do you prepare mentally and physically before games?
AR: I have a set routine and I do it every day. This consistency off the field helps me on the field.
ET: Do you ever feel like not doing your routine?
AR: There's days where you don't feel like doing anything, but those are the days that you have to. Those are the days you can't take a break – you can't stop. You just have to keep going.
ET: What do you say to yourself when you don't feel like doing your routine?
AR: Get up (laughs). Just do it. This is a shot in a lifetime. This is a once-in-a-lifetime thing. You don't get another shot.
ET: You talk about staying in the present moment. Is that your philosophy?
AR: Yes. If you're living in the moment and you don't let anything get in your way, then you might have a future. But I think you can learn from the past. Take the good from the past, not the bad.
ET: Who is your favorite player and why?
AR: I had the opportunity to play with Posada (Jorge), the last three years and he is a role model.
ET: What's the best piece of advice that Posada gave you?
AR: He didn't tell me anything. It's from what I saw. Don't get me wrong, he said a lot of things to me, but what I saw was that this guy is a fifteen year veteran and he's working harder than the 19, 20, 21 and 22 year old kids every day. That really opened my eyes to how much work it takes once you get there. He doesn't have to work that hard, but he does.
ET: How did you get to where you are now?
AR: Not making it never crossed my mind. I put in a lot of work and effort to get here and there's still a lot to go. I remember being 9 years old in the back yard in a hitting cage that my dad made, hitting at 10 o'clock at night with the neighbors banging on the door. It was long nights of grinding. I got here because of hard work. My dad always told me when I didn't want to hit and wanted to go out with friends, "Someone else is hitting right now."
ET: What do you know now that you wish you knew when you were younger?
AR: In high school, if you threw the rosin bag, I probably would have hit it and I probably would have hit it far. But now you can't always swing at everything. It's growing up and getting experience.
ET: You are one of the top 2 Yankee prospects. What are your thoughts on that?

AR: It's an honor. That helps me; it drives me to remain in that light.
ET: What do you think about when you're in a slump?
AR: I think about EVERYTHING (laughs). That's the problem. It's mental. I don't feel confident during a slump. I was in a slump this year – 2 for 40-something. And I said, "You know what? Screw it!" Then I went out and hit 3 for 4, and got back on track. I stopped thinking.
ET: How has baseball helped you in other areas of life?
AR: Discipline. It's taught me that nothing comes easy. If you let it, it (baseball) will roll you over and spit you out. Don't let it. Life is the same way. Do whatever you can to be on top at all times.
ET: I always say, don't try your best – do whatever it takes.
AR: I like that. That's GOOD.
ET: Take it, it's yours (laughs). Thank you for your time, Austin.
AR: Thank you.
https://www.edtseng.com/wp-content/uploads/2013/06/RomineBlue-200x3002.jpg
300
200
admin
https://www.edtseng.com/wp-content/uploads/2013/06/TsengLogo211-2.png
admin
2010-07-04 13:31:20
2010-07-04 13:31:20
MESSAGE #1076 EXCLUSIVE INTERVIEW WITH AUSTIN ROMINE