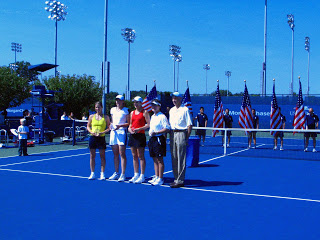 Today's message is especially dedicated to the one and only Nicole Arendt.
Nicole Arendt is a former WTA Touring Pro and now a coach at the National High Performance Academy and Head Coach of the Cran Brook School in Sydney, Australia. Arendt was a 4-time All-American at the University of Florida and was inducted into the Gator Hall of Fame in 2001.
Nicole's highest rank in singles was #49 in the world and #3 in doubles. She has 16 doubles titles under her belt and has make the finals of Wimbledon and won the US Open Masters (above) in 2006.
I spoke with Nicole yesterday and asked her what it took to succeed on the pro tour.
The first thing she talked about was the mental side of the game. You need self-efficacy; believe in your self, especially when you're not winning. Arendt talked about having the desire and passion for all aspects of the game.
To succeed on the pro tour, you also need to want and like to travel. Especially in tennis, where there is no off-season, so you are basically living out of your suitcase. Many times you are travelling by yourself and people don't realize how much of a challenge that can be.
The final thought from Nicole was that you need to be willing to put yourself on the line and be able to handle the spotlight. Whether you make it or break it, it's all you. There is no one to blame.
I first met Nicole Arendt in 1997 and have been fortunate enough to become friends with her and spend some time with her on the pro tour. Her accomplishments speak for themselves, but what impresses me the most about Nicole is that she is so modest, humble, and gives it her all in everything that she does. If you met her on the street, you wouldn't know that she was one of the top tennis players of her time.
So the next time you watch the US Open and think about the fact that it is impossible to become a player on the pro tour, think of Nicole Arendt – with belief in oneself, passion, desire and the right mindset, anything can happen.
Thank you, Nicole.
And thank you for reading.
https://www.edtseng.com/wp-content/uploads/2013/06/nikki2.jpg
240
320
admin
https://www.edtseng.com/wp-content/uploads/2013/06/TsengLogo211-2.png
admin
2008-01-10 16:23:00
2008-01-10 16:23:00
Message #163 Lessons From the Pro Tour