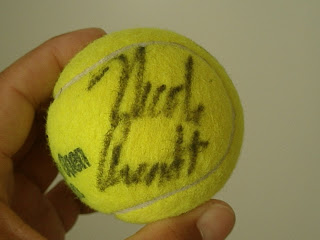 "If you perform to the best of your ability, you may not always win but you will never lose."
-LAWRENCE LEMIEUX, Olympic sailing competitor
Today's message is especially dedicated to my favorite tennis twins, Sammy and Leah Schaeffer…sorry, Bryan Brothers.
I remember the first time I hit with Martina Navratilova. We were playing doubles in preparation for her comeback out of retirement. Martina and I were on opposite teams and warming up one-on-one with each other. I remember the first couple balls I hit with her. All I kept thinking was, "I'm hitting with a living legend!" and my whole body was tense. I hit a couple short balls and even mis-hit one.
But then, I thought, "This is ridiculous, she's just another tennis player. Play tennis!"
At first I had to act like I was more confident than I was, but after a few minutes, a light switch went on, and I started playing well – playing loose.
Remember, the winners and losers feel the same feelings, they just act differently. Was Martina nervous warming up with me? Probably not, but I'm sure she has been nervous before some US Open finals.
My friend, Nicole Arendt, former World #2 WTA Doubles, told me that when she was serving for the match in the finals of Wimbledon, she was so nervous that her hands were shaking.
So if the pros get nervous, it's okay if you get nervous.
As long as you don't act nervous.
Act like the person you want to be, even if you're not that person…yet.
https://www.edtseng.com/wp-content/uploads/2013/06/nicole+ball2.jpg
240
320
admin
https://www.edtseng.com/wp-content/uploads/2013/06/TsengLogo211-2.png
admin
2009-08-03 11:20:00
2009-08-03 11:20:00
MESSAGE #738 I WAS NERVOUS IN PRACTICE...