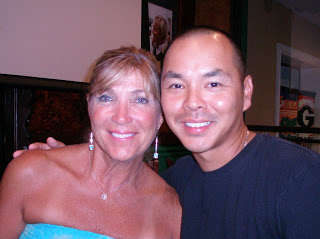 "Game. Set. Life. is a very motivating and inspiring book. Ed does a great job of teaching how to be positive and flip the thought process on the court or in life when negativity enters the mind. My friends and I recently attended one of his seminars and we were very impressed with his ability to capture his audience! We truly enjoyed his tips for peak performance."
-DENISE CAPRIATI, mother of Jennifer Capriati, former world #1 tennis player
So I'm back from a successful trip to Florida. I spoke to tennis players, coaches, business professionals and even a family from Brazil that didn't know much English. Denise Capriati showed up and brought her tennis friends.
I also had a great meeting with the great Tracy Hanlon and she, along with Chris Kennedy, the top racquet stringer in Palm Beach County, and Sandy Bell, tennis teaching pro at RiverWalk, are helping me line up some more speaking engagements for November. I already have one talk lined up at Ballenisles, home of Venus and Serena Williams, and am working on The Breakers, SeaView and other locations.
So I'm back home in Princeton, NJ and getting back in the groove as I prepare for the US Open. Sunday I will be heading into the city for the USTA Tennis Teachers Conference; Monday I will be speaking to tennis teachers, coaches and administrators from all over the world at the Grand Hyatt. After my talk I will be doing a book signing for the conference attendees. Then, on Tuesday, September 1, I will be doing a book signing at the US Open bookstore (near Court 10) during the day session.
I know what you're thinking, "What's the message of the day?"
The message of the day is this…
If I can fail out of college, twice and then become Pro of the Year and start my own business, then write a book and present it at the US Open, you can do whatever it is you want.
Anything is possible. There is a decent buzz going around about my book and speaking engagements, but guess what? I spent the past year promoting it, full-time. And now I'm reaping the benefits.
You get out what you put in.
I don't think that my book is the best book out there, but I certainly put in the time to market it.
If you put in the time in your sport, in your job, in your relationships, you will get better results, so long as you're doing the right things.
Talk is cheap. Take action today.
https://www.edtseng.com/wp-content/uploads/2013/06/P82325292.jpg
239
320
admin
https://www.edtseng.com/wp-content/uploads/2013/06/TsengLogo211-2.png
admin
2009-08-26 14:45:00
2009-08-26 14:45:00
MESSAGE #761 I'M BAAAAACK....