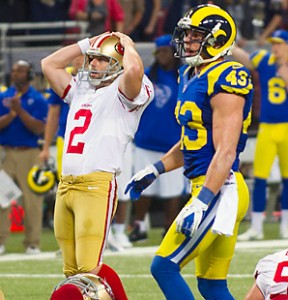 Today's message is especially dedicated to the great Stan Ho in Austin, Texas.
This morning, I was watching ESPN and to my surprise and enjoyment, they had a segment on "icing the kicker" in football. This strategy is used by teams to try to get in the head of the kicker right before they go for an important field goal. Oftentimes they do miss and there are even statistics that show it. During the segment, they were discussing what to do when you are iced, e.g. not thinking about your technique, keeping your mind focused, singing a song in your head, etc.
Well, here's the rub…
It is impossible for the "icing the kicker" strategy to work on a kicker.
Why?
Because nothing outside of you can affect you…only your THINKING can do that.
"It's not what's happening to you. It's not what's happening around you. What really matters is what's happening INSIDE you."
The ACT of "icing the kicker" in and of itself is neutral. If it truly had the power to affect a kicker's performance, it would work every time, but it doesn't.
Take a close look at these two scenarios:
Scenario #1
A player is ready to kick and the other team calls a time out. The kicker thinks, "Ugh, how annoying. Now I have to wait. This is a really important kick, I have to make it. Don't think about missing. Just stay positive. Sing a song to yourself. You are great." As the kicker is waiting, he begins to think more and more and before he knows it, his mind is filled with thoughts arriving at light speed. He begins to feel tight and his confidence disappears.
The result: A missed kick
Scenario #2
A player is ready to kick and the other team calls a time out. The kicker thinks, "Ugh, how annoying." But this player does not take the thought seriously and just lets it pass. He just waits and does whatever he feels like doing. Other thoughts pop up in his head but they just come and go. Because of this, his mind stays clear and he naturally stays loose, confident and focused.
The result: A successful kick
If you look at the two scenarios, the strategy by the other team is the same, but the reaction is different. There is nothing wrong with thinking "Ugh, how annoying" if you just dismiss it. On the other hand, if you stay with that thought or think it is true, you will feed it and begin a downward spiral. You will start to FEEL annoyed and then more thinking will occur and further cloud your mind and tighten your body.
Everyone has negative thoughts, including the greatest athletes in the world. The difference is these peak performers don't make a big deal of their thoughts. Everyone else thinks they need to "do something" about those thoughts.
Remember this: you can't control what thoughts come into your head, but it is always your choice whether you reinforce them or just let them pass.
You may not have the physical ability of a pro athlete, but you can have the same mindset as one. The truth is, you already do.
For a free 15-minute mental game consultation, email:
https://www.edtseng.com/wp-content/uploads/2013/06/130110211921-david-akers-298-single-image-cut-288x3002.jpg
300
288
admin
https://www.edtseng.com/wp-content/uploads/2013/06/TsengLogo211-2.png
admin
2013-01-14 09:29:31
2013-01-14 09:29:31
MESSAGE #1653 ICING THE KICKER