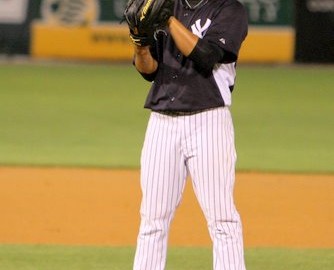 Have you ever been nervous before a big game?
Have you ever tightened up at a crucial point in a game?
Have you ever doubted yourself?
Of course you have, you're human.
One thing I have unearthed by talking to some of the greatest athletes in the world is that the world champions and the weekend warriors feel the same feelings. They think the same thoughts. So what sets them apart?
Their perception of the situation.
The actions that they take.
Yankee pitcher, Manny Banuelos just turned 20 years old on Sunday. And on Monday, he was slated to pitch on ESPN versus the Boston Red Sox. The biggest game of his life.
What did he do?
He pitched 2 and 2/3 scoreless innings, giving up 2 hits, 3 walks and striking out 2.
Pretty impressive for someone who was a teenager just two days before.
What's more impressive is how Man-Ban reacted to the pressure.
His perception was excitement, not pressure.
Banuelos admits he gets nervous, but it doesn't last long.
In the second inning, Banuelos got into a jam, having the bases loaded and only one out. He stepped it up and forced the next two hitters to ground out.
Then, on his last pitch, the pressure was on again with a 3-2 count. He threw a change-up to Kevin Youkllis and struck him out.
Wow.
The bottom line is that you can either let pressure hurt you or you can let it help you. It's your choice how you react, and if you are able to do your best when it means the most.
It is then that you will be unstoppable.
Speaking of being unstoppable, I shared my new mental skills workbook, "How to be Unstoppable" with some of the Yankees players when I was down at Spring Training last week. You can pick up your own copy by clicking HERE.
https://www.edtseng.com/wp-content/uploads/2011/03/IMG_9757.jpg
480
334
admin
https://www.edtseng.com/wp-content/uploads/2013/06/TsengLogo211-2.png
admin
2011-03-15 09:14:58
2011-03-15 09:14:58
MESSAGE #1329 HOW TO BE UNSTOPPABLE