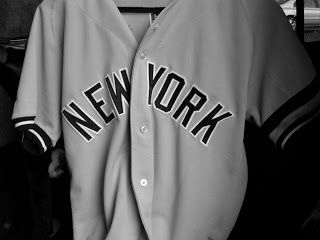 Today's message is especially dedicated to the great Gina Navarro. Today (today today) I consider myself (myself myself) the luckiest man (man man) on the face of the Earth (Earth Earth Earth).
If you're not a baseball fan, that is from Lou Gehrig's famous emotional farewell speech when he was diagnosed with ALS.
This is the last season for Yankee Stadium, 161st and River Avenue in the Bronx, New York…the most famous address in sports. The cathedral opened it's doors April 18, 1923 and saw Babe Ruth break it in by hitting a home run. Over the past 85 years, the stadium has seen various events including concerts, the Pope, other sporting events, but mostly it has hosted the home games of the Bronx Bombers, Murderer's Row, The Damn Yankees, etc. It has been home to names such as Babe Ruth, Lou Gehrig, Mickey Mantle, Joe DiMaggio, Yogi Berra, Don Mattingly and Derek Jeter.
Yesterday the great Travis Spalding invited me to the Bronx for a game against the Detroit Tigers. Words cannot describe, so today's blog is my tribute.
"Every day is a new opportunity. You can build on yesterday's success or put its failures behind and start over again. That's the way life is, with a new game every day, and that's the way baseball is." – Bob Feller
"Whoever wants to know the heart and mind of America had better learn baseball, the rules and realities of the game…" – Jacques Barzun
"Baseball is like church, many attend but few understand." – Wes Westrum
"I see great things in baseball. It's our game – the American game." – Walt Whitman
So to the New York Yankees and Yankee Stadium…thanks for the memories.
Thanks for reading.
https://www.edtseng.com/wp-content/uploads/2013/06/awayjersey2.jpg
240
320
admin
https://www.edtseng.com/wp-content/uploads/2013/06/TsengLogo211-2.png
admin
2008-05-02 17:12:00
2008-05-02 17:12:00
MESSAGE #277 A TRIBUTE TO THE HOUSE THAT RUTH BUILT