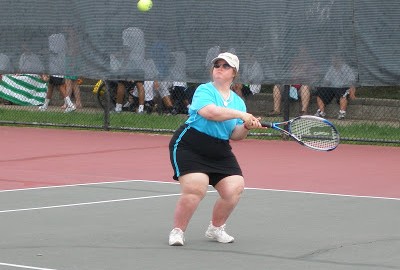 "The lessons I learned from Ed helped me win a gold medal in the Special Olympics Summer Games…and they can help you win a gold medal in life."
-Brad Abouchedid, Special Olympics Athlete
Well, my favorite time of year has come and gone with another memorable Summer Games. It really touches me when special athletes, coaches, volunteers, corporate sponsors and supporters all come together and create an inspiring event.
I recall Alex Armour saying thank you to one of the ball boys and another athlete asking if one of the ball girls was okay after nearly hitting her with a ball. Coaches, friends and family members cheered for ALL the athletes, regardless of what team they were on.
Even though the athletes I work with all received either ribbons or medals, the thing that I was most proud of was their attitudes. I saw much improvement in dealing with losses and the great Chrissy Acton even won a sportsmanship (sportspersonship?) award. As a coach I make it a point to stress giving it your all, having fun, and having a winning attitude. I tell my players that if they do those things, they are winners in my eyes.
Congratulations to Brad Abouchedid, Joey Clawson, Joe Bodnar, Alex Armour, Mike Capone, Chrissy Acton, and Laura Casper.
A special thank you to the great coaches, Mary Ellen Abouchedid, Mike Capone, Joe Acton and Sean Abouchedid, as well as volunteers, Robbie and Jessie Luttrell and Mike Fishman.
P.S. Joe Clawson and I ended up winning the Bronze Medal for Unified Doubles. Thank you Joey, for the pleasure of being your teammate.
https://www.edtseng.com/wp-content/uploads/2013/06/spec+o+12.jpg
300
400
admin
https://www.edtseng.com/wp-content/uploads/2013/06/TsengLogo211-2.png
admin
2008-06-09 04:00:00
2008-06-09 04:00:00
MESSAGE #315 DAY 3 AT THE SPECIAL OLYMPICS SUMMER GAMES